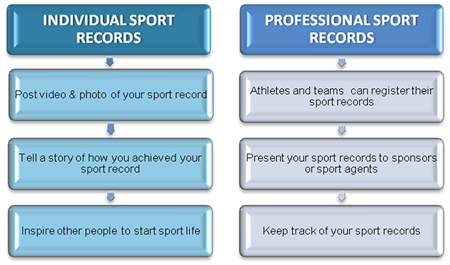 Virtual National Team gives people a chance to keep records of personal and professional sports achievements.

Individual Sports Records. Regular sports activity is part of a healthy lifestyle. There are many reasons to be involved in sports; one is to break or make a record. Many people try to achieve a personal sports record. Not everyone can be an Olympic champion, but everyone can be proud of himself/herself when he/she makes a personal sports record. It is unnecessary to compare yourself with professional athletes; your personal records may not be as big, but they are still personal achievements that are important for you. VINT allows you to share your record with others, including photos and/or video of your achievement.

Professional Sports Records. A goal of every athlete or sports team is to set a record. If you just started your sports career, it will be helpful to announce your sports records and present them for sponsors or sports agents. As a well-known athlete, you can post your sports records for others to see and attract more people to be involved in sports by following your example. Making your professional records known to the world can be very beneficial to your personal growth and your sports career. VINT allows individual professional athletes and professional sports teams to post their records for others to see.